THE ANNUAL HALLOWEEN PARTY
was Saturday, October 26, 2002
Sts. Vartanantz Armenian Church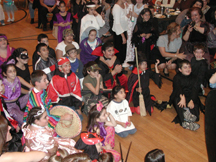 The annual Halloween Party was a success, over 100 people came to celebrate this events.
We would like to take this opportunity to thank all of our members that help us
make this event this successful. And also thank you to all parents who brought their children
and help us make this evening unforgettable.