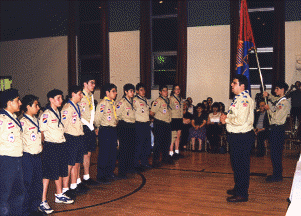 The Scouts Pledge Ceremony was held at the Sts. Vartanantz Armenian Church
on Saturday, May 22, 1999 in Ridgefield, New Jersey.
Scouts from New Jersey and Philadelphia were awarded higher ranks in front of more than 200 people.
The ceremony was witnessed by Mr. Grey Roland of the "Scouts of America" Organization.
We encourage all parents to bring and register there children to become Armenian Scouts.